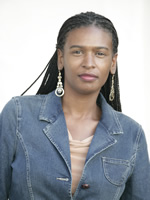 Tni LeBlanc's family has lived on the central coast for over 25 years. She was born in Santa Barbara and the family came to the Santa Maria Valley in 1986 to open a restaurant in the Town Center Mall. Tni attended local schools and began her college education right here at Allan Hancock College in Santa Maria. In 1992, she moved to Atlanta, Georgia to pursue her Bachelor of Arts degree from Clark Atlanta University, which she received, summa cum laude, in 1995. Subsequently, Tni obtained a law degree from Georgetown Law and a Master of Arts in philosophy from Georgetown University.
After graduation, she began practicing law in Washington D.C., with Jones, Day, Reavis & Pogue, but she always had her eye on returning to the Central Coast. In preparation for that, she took and passed the California Bar on her first sitting. And in 2000, she was nominated for and received a "Distinguished Alumni Award" from her alma mater, Allan Hancock College. After a few years of working for Fortune 500 clients, Tni made the move back to Santa Maria while commuting to work at the (then) largest law firm in Santa Barbara, Hatch & Parent. Soon after her return, Tni began the transition from attorney to real estate broker.
By July 2006, she opened her own brokerage, Mint Properties, in the Mission Creek Plaza building on Santa Maria Way. Tni's stated aim is to offer the highest quality representation and professional service to her clients. Independence affords her the ability to avoid a volume driven approach; the result is prompt, reliable, individualized service coupled with straightforward advice. Indeed, she brings the same level of professionalism to real estate as she did to the law. Her clients range from sophisticated long term real estate investors to first time buyers. And, the diversity of services offered by Mint Properties reflects her legal background; she handles all manner of real estate transactions from 1031 exchanges to short sales.
Tni has maintained her commitment to and involvement with the local legal community by serving as a board member for the Legal Aid Society of Santa Barbara County (2006 – 2010), and she has pledged to make a donation to that organization upon each real estate closing. Locally, Legal Aid is committed to providing access to the legal system to victims of domestic violence, elder abuse, and housing discrimination. Currently, she serves as Chairperson of the Santa Maria Association of Realtors' Fraud Task Force and Grievance Committee. In support of the local business community, Mint Properties is a proud member of the Santa Maria Valley, Nipomo and Lompoc Valley Chambers of Commerce. In her spare time, Tni enjoys travel, reading, and toting the world's most spoiled Pomeranian (Spike) around town.